Most recent low power Intel mini PCs are now based on Apollo Lake family with SoC such as Celeron N3450 or Pentium N4200, but we've known for a while that
Gemini Lake processors
will succeed those starting in Q4 2017, and we can expect some
Celeron/Pentium SKUs
like Intel Pentium J5005 or Intel Celeron N4000, but so far I had not seen that many details. However, an anonymous tip pointed me to some interesting publicly available information.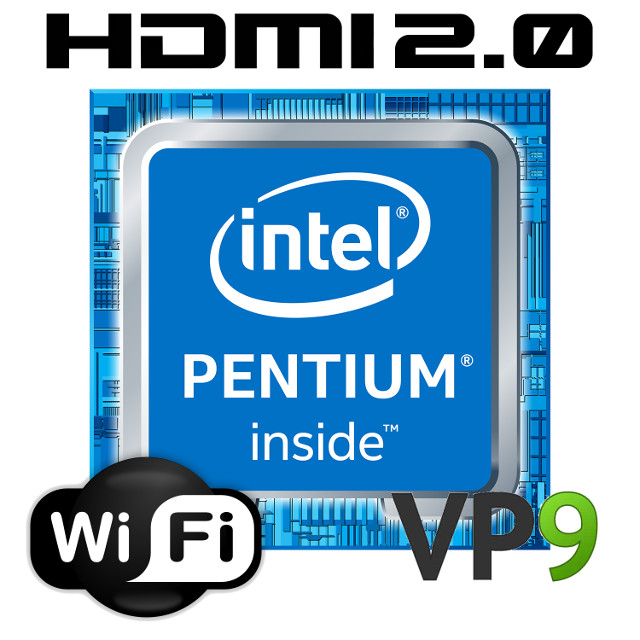 First, a
kernel patch
reveals a little about the CPU pipeline:
Add perf core PMU support for Intel Goldmont Plus CPU cores:
– The init code is based on Goldmont.
– There is a new cache event list, based on the Goldmont cache event list.
– All four general-purpose performance counters support PEBS.
– The first general-purpose performance counter is for reduced skid PEBS mechanism. Using
pp to indicate the event which want to do reduced skid PEBS.
– Goldmont Plus has 4-wide pipeline for Topdown
Goldmont Plus is the microarchitecture used in Gemini Lake processor. Goldmont found in Apollo Lake processors only uses a 3-wide pipeline, so there should be some performance benefits here.
Another patch
indicates the processor will natively support HDMI 2.0 output:
Geminilake has a native HDMI 2.0 controller, which is capable of driving clocks up to 594Mhz. This patch updates the max tmds clock limit for the same.
Apollo Lake processors only support HDMI 1.4 natively, and while HDMI 2.0 is possible, it requires an external DP to HDMI 2.0 converter, which won't be needed in Gemini Lake processors.

The last link to
Intel 2017Q2 Graphics stack
page lists the supported codecs and post-processing support in Gemini Lake processors via the VAAPI driver:
Add support for Gemini Lake (aka. GLK)
– Decoding: H.264/MPEG-2/VC-1/JPEG/VP8/HEVC/HEVC 10-bit/VP9/VP9 10-bit
– Encoding: H.264/MPEG-2/JPEG/VP8/VP9/HEVC/HEVC 10-bit/AVC low power CQP mode
– VPP: CSC/scaling/NoiseReduction/Deinterlacing{Bob, MotionAdaptive, MotionCompensated}/ColorBalance/STD
Finally, as I searched more about the Goldmont Plus microarchitecture, I found
Wikichip
page that also claims the processor will integrate an 802.11ac wireless controller, so no external module is needed. I could not find any other reference to this last claim, except for a
FanlessTech tweet
also claiming DDR4, Bluetooth, and 4MB L2 cache. Gemini Lake processors will be manufactured with 14-nm process like their Apollo Lake predecessors.

Source:
CNXSoft